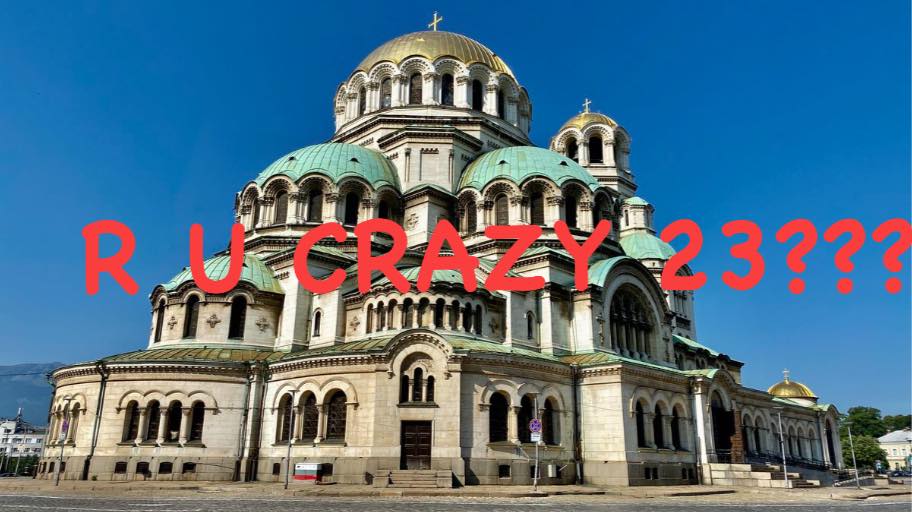 R U interested to join on a CRAZY HASH TRIP 7-10 oct to Bulgaria with chance to hash with Sofia HHH, run Sofia Marathon (10, 21 or 42km), and have a crazy daytrip with STH hash?

Also, would U be interested to join a semi-organized post lube to Thessaloniki from 10 oct?

PLEASE LET 2SC or TSL know, via comment to post on Hash FB, via messenger or :
1. R U interested to join for Bulgaria Craziness?
2. R U also interested to join Post Lube Greece?

Rough outline of program below, no need to book anything now, just a heads up.

CRAZY HASH TRIP 23
6 or 7 oct fly to Sofia
7 oct afternoon short Sofia HHH or STH, after joint dinner
8 oct Sofia Marathon 10, 21 or 42 km. Joint dinner
9 oct Crazy daytrip to secret spot with hash. Closing dinner.
10 oct fly home

Wizzair has direct flights to/from Sofia 7 & 10 oct.

POST LUBE
Maby a Post lube with limited organized stuff.
If U wanna have longer holiday and have some Greek sun, Thessaloniki is a 5 hour bus ride away. Either normal bus or if we are many we can rent a Crazy bus and make alkostop en route?
And maby a STH in Greece before U fly home.

Flights with one stop to Stockholm are available from Thessaloniki.
HOTELS
U can start booking rooms. Hotels below have possibilities to book now/pay later, up 2 U. If U book other hotels than below we recommend one close by. Craziness start/end from option 1. PS. Inform TSL what U booked!
Recommended hotels in Sofia 7-10 oct:
Sofia Palace Hotel by hmg (more stars)

Sofia place hotel by hmg (good value)

Vitosha Downtown apartments (share a party dungeon)
Recommend hotels Thessaloniki 10 - XX oct:
Egnatia hotel (it's red)

Mandrino hotel (a hotel)

Antigon Urban Chic Hotel (Feel rich at 5-star hotel)
SOFIA MARATHON
Book marathon (10,21 or 42km) here:
https://www.marathonsofia.com/?lang=en
FLIGHTS
We recommend U to wait a bit more before buying flight tickets.
WHO R CRAZY - so far (21/3)
2SC - all, Palace + Egnatia

Ménage - all Palace + Egnatia

Double Dick - all, Place + Egnatia

Pucko - all, Place + Egnatia

Big Brother - all, Palace + Egnatia

Big mouth - all, Palace + Egnatia

Little Brother - all, Place

Ditch Bitch - all, Place

Ramblin - all

Nobby - all

Miz Monnypenny- all

Pole fucker - all

TomBoy - all

Blow Qween - all

Hardworn - all, palace + egnatia 10-13oct

Dirty Dancer -all

Wet One - all

Dip Shit -all

4-pack - all, Place + Egnatia 10-15oct,

Bad Pit - all

Just Helena - all

Slickly Licky - all, Place (with Limp)

Pirate ?, Palace

Hare Today Gone Tomorrow, all, Place + Mandrino 10-13oct

Jingle Balls?

Aliwank bonk ?

Foghorn - Bulg

Laid Bird ? Palace 1 bed

Violent Volvo - bulg

Little Willy - bulg,,

Limp - bulg, Place (with Slicky Licky)

Moby Dick- bulg

Dirty Lobster - bulg, Palace, Wizz 7-10oct, 10km.

Old n Stiff - Bulg+?


Queen of Bender- Bulg

🔛🔛 TSL